For Samsung LTM1775 LCD Monitor AC Adapter
Replacement For Samsung LTM1775 LCD Monitor Laptop AC Adapter 14V 3.5A 50W
Quantity
Unit Price (AU$)
2-5
6-10
11-30
Order More? Click Here to contact us
---
Input : AC100-240V
Output : DC14V 3.5A
Power : 50W
Connecter size : 6.0*4.4mm
Item Includes : AC Adapter and Power Cord For Your Country
Replacement Samsung AC Adapter With 1-Year Warranty and 60-Day Money Back!
Condition: Brand New Replacement Product, works as genuine parts, 100% OEM Compatible!!
---


BRAND NEW AC Adapter + POWER CORD :
Replacement For Samsung LTM1775 LCD Monitor laptop ac power adapter is rated at 14V 3.5A 50W.Replacement laptop ac power adapter is 100% Compatible, Meets or Exceeds Original Specification.The AC Adapter for samsung laptop is safe with overvoltage, shortcircuit and overcurrent protection. It is sturdy and well built as it is made from the highest quality parts and first class worksmanship.

Inadition,this adapter for samsung ltm1775 lcd monitor is manufactured under RoHS (Restriction of Hazardous Substances ) Directive which aims to protect human health and the environment through the restricted use of certain hazardous substances. FCC, CE Certification. These adapters are fortify with double IC, use Fairchild boards specifically designed with high quality materials and are thoroughly tested to meet high safety standards.
Replace Part Number:
Samsung AD-4914N LCD Monitor, Samsung BN44-00063A LCD Monitor, Samsung BN44-00075A LCD Monitor, Samsung AP04914-UV LCD Monitor
Compatible Models:
Samsung LTM1525 LCD Monitor, Samsung LTM1575WX LCD Monitor, Samsung LTM1755 LCD Monitor, Samsung LTM1775 LCD Monitor, Samsung LTM1775W LCD Monitor, Samsung LTN151 LCD Monitor, Samsung LTN1765 LCD Monitor, Samsung STM1575WX LCD Monitor, Samsung SYNCM170MP LCD Monitor, Samsung SYNCM172MP LCD Monitor
KEY FEATURES:
1. Overvoltage and Shortcircuit protection.
2. Short Circuit Protection.
3. Over Temperature Protection.
4. Wide input Voltage range, could stable work under 90v-264v.
5. PCB & Cover is manufactured with Fireproofing materials.
6. Low Ripple and Noise.
7. High Quality Raw Materials.
8. High Power exchange efficiency to control working temperature and stable working.
9. ealed for protection against moisture and high humidity.
10. Designed to filter input line voltage spikes or surges.
11. Exclusive internal safety features protect your notebook from electrical hazards.
Laptop Adapter/Charger Inside Part & Exegesis By Laptopacadapter.com.au: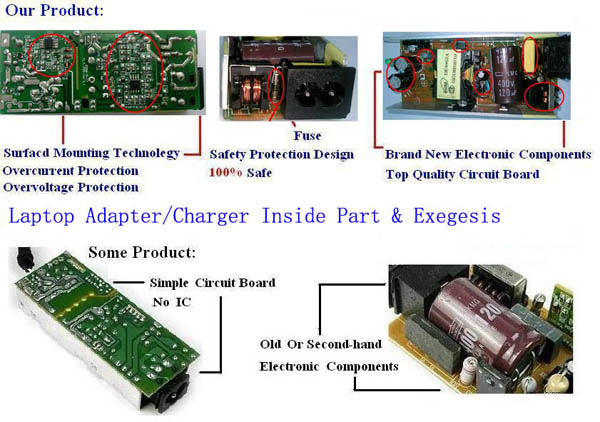 ---
All brand names, logos, and trademarks referenced on this site remain the property of their respective owners. They are used to demonstrate compatibility for descriptive purposes only. www.laptopacadapter.com.au is not affiliated with, authorized by, licensed by, distributors for, nor related in any way to any brand name manufacturers. We do not sell original name-brand laptop AC Adapters. Use of the site constitutes acceptance of our Terms and Conditions.